Governor Deal Signs Bill Creating "Returning Veterans Task Force"
Last week, Gov. Deal signed into law legislation creating an intra-state task force to investigate how state agencies can coordinate services to better assist service members discharged under conditions other than dishonorable from active duty back into society. 
The "Returning Veterans Task Force" will be comprised of one representative each from the Department of Veterans Service, the Department of Community Health, the Department of Behavioral Health and Developmental Disabilities, the Department of Labor, the Georgia Department of Defense, the Board of Regents of the University System of Georgia, and the Technical College System of Georgia. Other agencies may be invited to participate in the task force based on needs identified over time. The task force will meet at least quarterly.
The task force will issue recommendations to each relevant state agency regarding improving the delivery of services to returning veterans. On or before November 1 of each year, the task force will send specific suggestions for legislation designed to assist returning veterans to the Speaker of the House of Representatives, the Lieutenant Governor, and the Governor.
The task force is a result of legislation introduced and passed during the 2013 session of the Georgia General Assembly. Key lawmakers and agency representatives involved in its passage and witness to Gov. Deal's signing included (from left) Sen. Jack Hill of Reidsville, GDVS Assistant Commissioner Mike Roby of McDonough, GDVS Commissioner Pete Wheeler of Atlanta, Sen. Lester Jackson of Savannah, Rep. Bill Hitchens of Rincon, Sen. Ed Harbison of Columbus, and GDVS Assistant Commissioner Dan Holtz of Douglasville.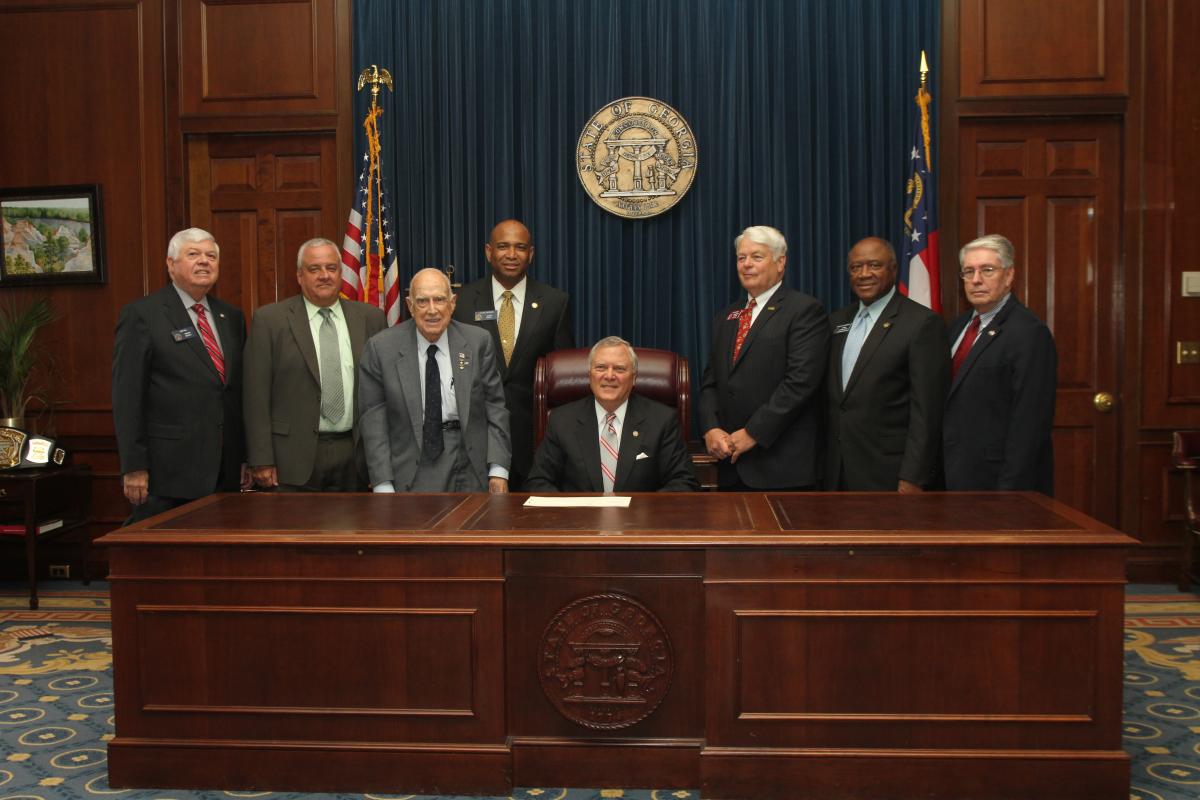 EDIT (Sept. 9, 2013): Since this article was published, the Governor's Office of Workforce Development was added to the Returning Veterans Task Force. The first, organizational, meeting of the task force will be held at 10 a.m. Thursday, Sept. 12, 2013, in the conference room of the Georgia Department of Veterans Service, Suite E-966, Floyd Veterans Memorial Building, 205 Jesse Hill, Jr. Drive SE, Atlanta, GA 30334. 

EDIT (May 18, 2015): More information is available at veterans.georgia.gov/rvtf.