Vietnam Veterans Recognition
As part of the commemoration of the 50th anniversary of the Vietnam War, the GDVS has joined the Department of Defense as a commemorative partner. As part of participating in the commemoration effort, the GDVS seeks to honor and recognize the service and sacrifice made by all Georgia Vietnam veterans.
The GDVS recognizes the service of Vietnam veterans with two certificate programs.
Vietnam veterans are eligible for the State of Georgia's Vietnam War Certificate of Honor.
The families of Georgia's Vietnam veterans are also eligible for certificates of honor offered by the Department of Defense. The Vietnam War 50th Anniversary Commemoration Certificate of Honor Program recognizes the unique service of four categories of veterans and their families.
The GDVS can assist in obtaining these certificates and is proud to coordinate public presentations.
V50certificateKemp_example.png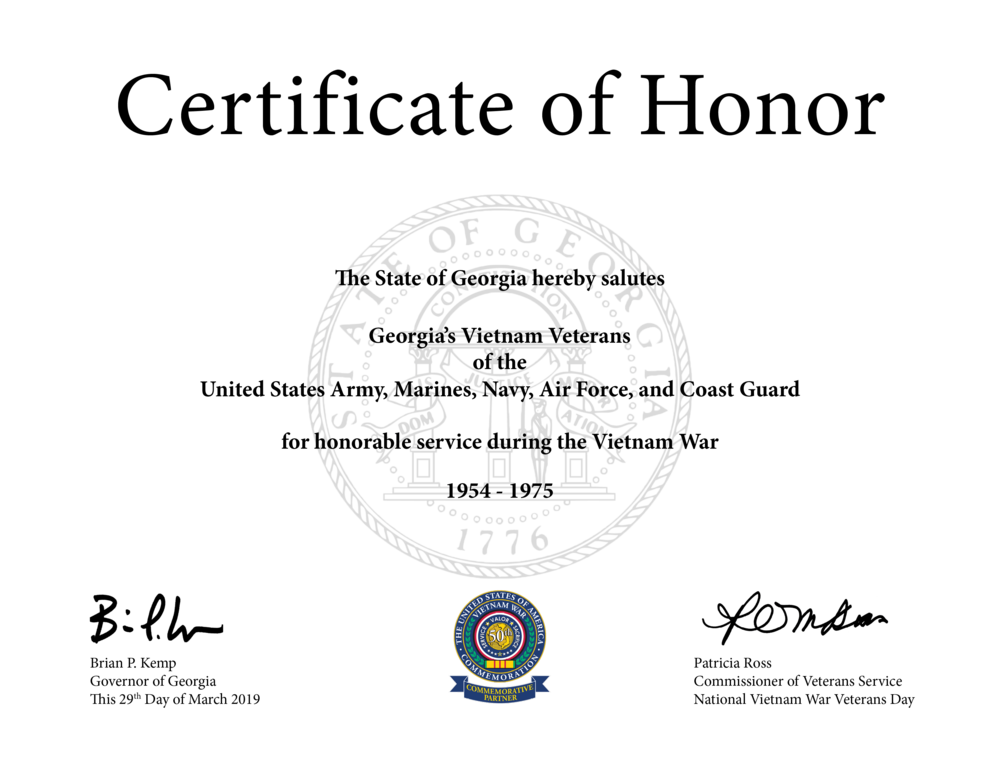 In conjunction with the 50th Anniversary Commemoration of the Vietnam War, the State of Georgia wants to honor every one of its 234,000 Vietnam War veterans.
To accomplish this goal, the Georgia Department of Veterans Service, in partnership with the Office of Governor Nathan Deal, has created the Vietnam War Certificate of Honor program.
Every Georgia veteran with honorable service during the Vietnam War is eligible to receive this certificate. (This includes veterans with service in country and those who served in other capacities.)
With the help of veterans service organizations, word of mouth, and local media support, these Certificates of Honor will be ceremonially presented to every Vietnam War veteran in Georgia.
Each certificate is personalized with the Vietnam War veteran's name, rank, branch of service, and dates of service printed over the Seal of the State of Georgia and includes the official U.S. Department of Defense's Vietnam War Commemorative Partner logo.
Group (VSO) Application Procedure
Members of veterans service organizations are encouraged to apply to receive their certificates together. For information on making a group application, email [email protected] or call 404-656-5933.
Individual Application Procedure
To apply, please send your name, rank, branch of service, dates of service, and a copy of your DD Form 214 to [email protected] or Georgia Department of Veterans Service, Attn: Certificates, 2 Martin Luther King, Jr. Drive SE, Atlanta, GA 30334, or call 404-656-5933 for more information.
Official Presentation
The State of Georgia would like veterans honored by this program to receive their certificates during a formal presentation. The Georgia Department of Veterans Service will work with VSOs and individual veterans to coordinate these presentations wherever possible.

A list of all currently scheduled ceremonies is included on our calendar.