Suicide Prevention
Staff Sergeant Fox Forum
Join GreenVeterans and the Georgia Department of Veterans Service in Room 341 at the Georgia State Capitol as we discuss current initiatives and challenges that still need to be addressed to prevent suicide in military service members, veterans, and their families.
Thursday, October 5, 2023
10 a.m. - 2 p.m.
206 Washington St SW
Atlanta, GA 30334
United States
Add to Calendar
ssgfox_forum_aug8update.png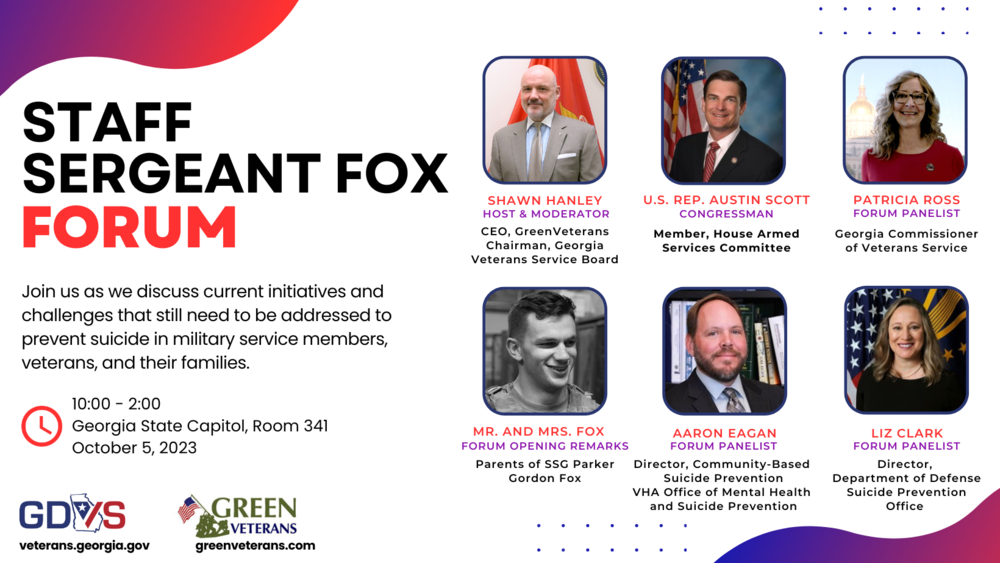 The parents of Staff Sergeant Parker Gordon Fox will open the forum, sharing their stories and how SSG Fox continues to impact veterans across the nation. 
U.S. Representative Austin Scott, a member of the House Armed Services Committee; Aaron Eagan, Director of Community-Based Suicide Prevention with the VHA Office of Mental Health and Suicide Prevention; and Liz Clark, Director of the Department of Defense's Suicide Prevention Office will join Shawn Hanley, CEO of GreenVeterans and Chairman of Georgia's Veterans Service Board, and Commissioner Patricia Ross on the panel.