Driving Licenses and Personal ID Cards
Veteran's Driver's License and Personal ID Cards
veteran_drivers_license_web.png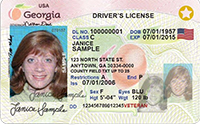 This special version of a Georgia driver's license or personal ID card includes a U.S. flag and the word VETERAN prominently displayed on the front.
Any honorably discharged veteran is entitled to a free veteran's driver's license.
Veterans must be a current resident of Georgia to apply for a veteran's driver's license. 
A member or former member of the National Guard who served on active duty or has 20 or more years of creditable service also qualifies. The veteran should obtain a Certificate of Eligibility from the Adjutant General of the State of Georgia and include it with the other required documentation.
In order to obtain a veteran's driver's license, the applying veteran must take their DD Form 214 and proof of residency to a GDVS Veterans Field Service Office for verification. 
The veteran must then take the completed Certificate of Eligibility (DS-516), together with all required identifying documents (birth certificate or passport; Social Security card; two documents showing residential address; and, if applicable, name change documentation) to a Georgia Department of Driver Services (DDS) office. A DDS representative will administer a vision exam, verify the veteran's eligibility, and issue a veteran's driver's license.
For more information, call 678-413-8400, or visit the Department of Driver Services.