License Plates: Motorcycle
Specialty veterans license plates are available for motorcycles.
motocycle_pheart_plate_web.png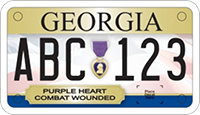 The same rules apply as for passenger vehicle versions. Due to space limitations, specialty veterans license plates for motorcycles include simpler designs than full-size plates.
To apply for any of these plates, it is necessary to complete Form MV-9W (available at dor.ga.gov/documents/forms) from the Motor Vehicle Division of the Georgia Department of Revenue and take it, along with a copy of your DD Form 214 (or other supporting documentation for certain plates) to your county tax office.